MENTALLY AWARE NIGERIA INITIATIVE PRESENTS
THE LARGEST VIRTUAL MENTAL HEALTH SUMMIT IN AFRICA
Learn, Network and Influence.
Mentally Aware Nigeria Initiative (MANI) is Nigeria's largest and most active mental health non-profit network that exists to provide the needed awareness and advocacy regarding mental health and illness. At MANI, we help connect people seeking help with trusted mental health professionals, offer direct counseling via our suicide/distress hotlines and act as support to their family members and friends.
In the bid to raise more awareness on how the state of an individual's mental health affects his/her everyday activities, we are organizing a month-long online summit on 3 major social media platforms. One of these platforms is WhatsApp Messenger; where we intend to organize 5 sessions across 50 groups of 100 participants each for every session. We will also hold tweet-chats with influential individuals/professionals and Instagram Live sessions anchored by our volunteers.
Theme: Mental Health, Social Media and Technology
Date: October 2018
Location: Twitter, WhatsApp Messenger and Instagram.
Hashtags: #MANIVIRTUALCON18 #MANIVC2018
SEGUN SEGA AWOSANYA
Chief Executive Officer
Eketi Edima
LAWYER, WRITER
Oluwatosin Olaseinde
CHARTERED ACCOUNTANT
Poverty and Mental Health
People with Mental health Problems cannot hold down a job
Suicide Decriminalisation
Mental illness is a village curse
1 day ago
@MentallyAwareNG PH chapter would have her conversation cafe this coming Saturday 25th January 2020 at Local Trybe restaurant by 1pm, come and let's have fun while talking about mental health https://t.co/LIGIP67mSI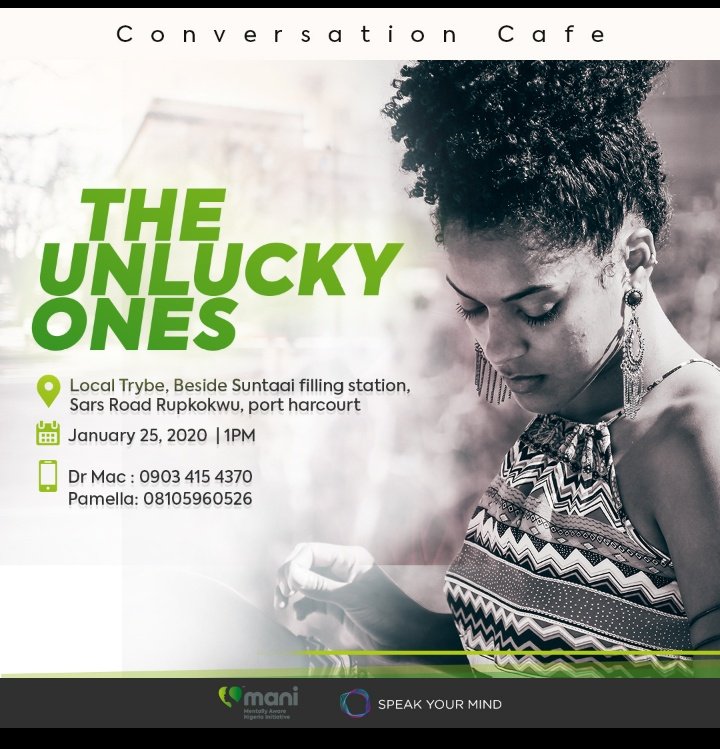 1 day ago
We @MentallyAwareNG PH chapter visited Lemu Orphanage at Rupuokwu to start up our year activities/event, it was awesome spending time with them https://t.co/msKAxwnhUj